Creating a detailed rehearsal schedule can be difficult and time consuming. It's also the single most important task that a Director can do to ensure the success of their show. Good thing there's a tried-and-true process to make the work easier to manage and your production period a lot more, well, productive!
After 40 years of directing educational theatre, I've worked out a reliable system for scheduling rehearsals to make the most of everyone's time without rushing through any of the important work:
1. Clear your schedule
2. Do the math
3. Create your rehearsal breakdowns
4. Get everyone on the same page
It's more about method than magic, so set aside the time to work methodically though these steps and you'll be sure to see results.
With so many moving pieces to account for, your process will likely involve a bit of trial and error. But, if you make sure to organize the relevant information before you sit down to schedule, you'll find that the end result is well worth the time it takes to sort through all the details.
Let's get started, shall we?


Step 1: Clear your schedule
Before you can plan even your first rehearsal, you'll need to get clear about what days and times are open to begin with. By looking at the big picture first, you'll save yourself a whole lot of potential stress and conflict as you get into production.
Create blank month-long calendars for each month you'll be in rehearsal and production.
Fill in any and all events that are pertinent to your organization, cast, and/or greater community. These should include holidays or other days when your campus or rehearsal space is closed, important meetings and internal events, and major events that will affect any or all of your Company (for example, in a school this would include major tests, testing periods, college app deadlines, and so forth). This will enable you to honor the bigger picture of your cast, crew, and production team's lives while also getting your work done.
Add dates and times for your regular rehearsal sessions. When at all possible, make these consistent. This will enable your Company (and their families) and colleagues to plan around rehearsals and, ultimately, to better support you and the production.
Fill in your performances, including call times, strike times, and cast party.
Schedule final rehearsals. Be sure to give yourself plenty of time toward the end of production, as these sessions often last hours longer than regular rehearsals. By planning realistically (or even with a worst-case mindset), you show respect for everyone involved and allows others to plan around your crunch time.
At this point, all that should be left blank on your calendar is the time you have to rehearse the show.
Step 2: Do the math
Now that you know how much rehearsal time you have available, it's time to figure out just how much work there is to get done!

Count the number of rehearsal hours you have to complete your work.
Count the number of pages in your script.
If you're doing a musical, consult with the Music Director and Choreographer regarding how much time they think they'll need for each musical number.
Do the calculations! How many pages' worth of work do you need to accomplish in each rehearsal to bring the show to life?
This part of the process may seem overly analytical, considering we're talking about creative work; but don't worry. Yes, there are many variables to consider and no two directors or casts are alike. Give it your best shot and you'll end up in a great starting place for the detailed planning work to come.

Step 3: Create Your Rehearsal breakdowns
Here's where things start to get really interesting. Based on the work you've done in the first two steps, you are now ready to plan what specific work you'll do in each individual rehearsal.
To begin, I divide my total rehearsal time into three sections:


Phase I: Table work, Blocking, Simple Character work
This first section is the longest in your rehearsal period. During this time, you'll get your actors on their feet, start the work of learning their lines and discovering character, and create a framework for the refinement work to come. When your'e producing a musical, this period of time also includes setting choreography and learning vocal music.
For a play with an 8-week rehearsal period, Phase I accounts for about 4 weeks.
Going with the above example, I divide the total number of pages in the script by the rehearsal hours I have in those 4 weeks. This tells me exactly which scenes to rehearse each day. Of course, sometimes I'll go over/under my page limit due to scene breaks, more difficult material, number of actors involved, difficulty of blocking, etc.
For a musical with an 8 to 10-week rehearsal period, Phase I accounts for about 6 weeks.
Because there are so many production elements involved in a musical, I try very hard to double schedule rehearsals whenever possible. For example, if there's no overlap between which actors are needed where, I'll plan to work on blocking for certain scenes while the Choreographer is simultaneously teaching a dance number to a different set of performers and the Music Director is teaching vocal parts to others. Of course, this doesn't always work out, but I work hard to organize things in this way to make the most out of every single rehearsal.


Phase II: Review, Polish, Adjust
At this point in the process, actors should be off book with all material. For a musical, performers should know all choreography, vocal notes, lyrics, and lines.
This is when the show really starts to look like something. There is as sense of accomplishment, for sure, but in a school situation especially this can also be a frustrating time for everyone, as high adult expectations come up against students who may have lost a bit of the initial excitement for the show.
For a play with an 8-week rehearsal period, Phase II accounts for about 2 weeks.
In order to take the show from bare bones to polished production, we now have to work on more material in each rehearsal. I try to group scenes together in a meaningful way, reflecting the arc of the script.
For a musical with an 8-10-week rehearsal period, Phase II accounts for about 2 weeks.
I prefer to focus on one Act per week during this period and try to group scenes together in a meaningful way. Even so, this scheduling is often dominated by musical numbers, as they take more time to refine than an acting-only scene.

Phase III: Final Rehearsals
This is usually a two-week phase, regardless of whether you are producing a play or a musical. For the latter, rehearsals during this phase typically include full Tech Crew and Pit Orchestra.
Phase III, Week 1
During the first week of this final rehearsal phase, I plan to run the entire play or musical within the available rehearsal hours, stopping only for major issues. This enables the performers to truly get a feel for the pace and flow of the show.
Phase III, Week 2
The final week of rehearsal is devoted to tech and dress rehearsals leading up to opening night.
To give you a visual sense of how all of this looks, I've included the rehearsal schedule for a production of In the Heights that I directed. It should be noted that I included rehearsals during school hours (Musical Theatre is scheduled as a class), as well as after school and final rehearsals. So, "X" indicates the scheduled class time, which is a 60-minute period.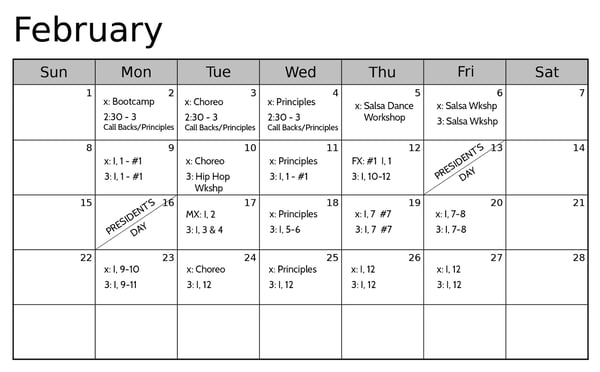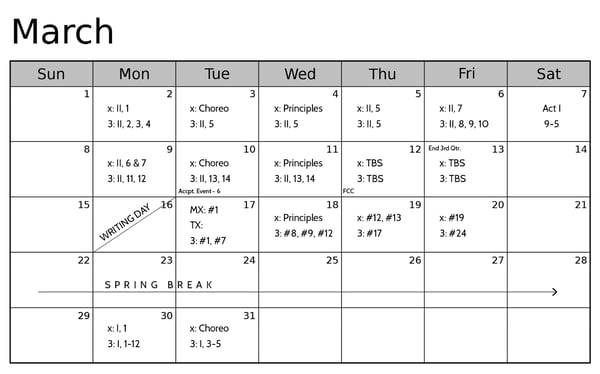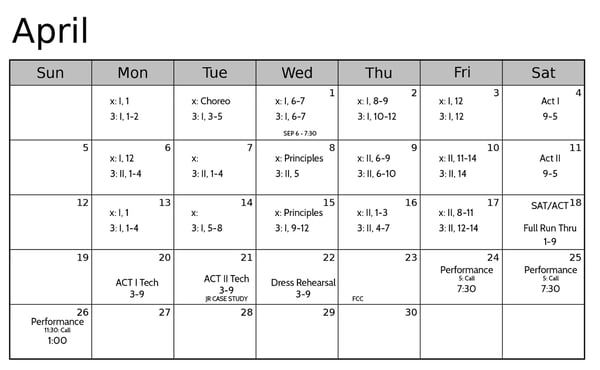 Step 4: Get everyone on the same page
Once you have completed your rehearsal schedule, you'll want to share it with your Production Team and, eventually, your full Company.
You may choose to keep things manual and simply print off copies for everyone involved. Or, to keep everyone on the same page with automatic reminders and easy updates, take the time to build your schedule out in a web-based calendar tool, such as iCalendar or Google Calendar.
If you're using On The Stage's theatre streaming tools to host virtual rehearsals, you can even set up your calendar and send invitations, reminders, meeting links, even script documents right from the platform with just a few clicks!
However high- or low-tech your production, now that all the details have been laid out clearly in advance, success is right there within reach before the creative work even begins.
---
---
---
Want More Support?
Ticketing, Promotion, Audience Engagement, and more...including an easy-to-use production and streaming platform created specifically for theatre. You focus on the art, we'll take care of the rest! Find out how On The Stage can support your next production.
Let's Talk!