For drama teachers with a tried-and-true paper ticketing process in place, digital sales and box office management might seem like a daunting (or even unnecessary) prospect. But schools across the country are moving to online ticketing... and their only regret is not doing it sooner!
We know what you're thinking: This has to be coming from the Administration.
After all, theatre teachers are too busy negotiating tech budgets, making sure auditions run smoothly, blocking a stageful of Von Trapps and getting them to "Do Re Mi" in harmony, dealing with licensing for next semester's play—all in between the actual teaching—to fix what isn't broken, right?
Not necessarily.
Believe it or not, a good online ticketing system can make your job a whole lot easier!
Find out why and how to make the switch (for FREE) in just 5 easy steps:
It's called Deus Ex Machina for a Reason
You know that moment in classical theatre when everything has reached peak comedic or dramatic impossibility, but then something unexpected or even magical occurs to bring resolution and restore balance?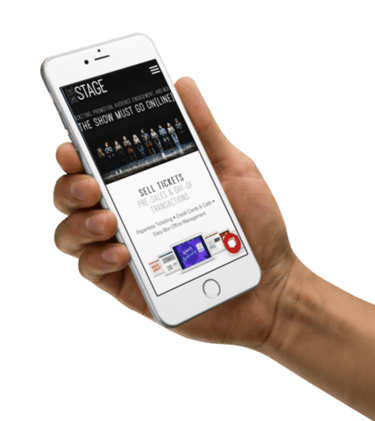 The name for that plot device translates literally from Latin as "god from the machine" (which you already know, of course!).
Consider for a moment that such solutions actually exist. Sometimes they're even easy and affordable! But you have to be willing to suspend your disbelief.
We're living in the computer age. There are tools out there created just for you!
How much time and energy do you spend:
Organizing students to sell tickets?


Dealing with lists or spreadsheets and managing seating?


Checking in patrons on the day of the show?


Making change and tracking cash sales?


Answering the same questions about your venue, performance dates and times, accessibility, and ticket availability over and over and over again?


With the right online ticketing platform, all those business-of-theatre tasks are streamlined for accuracy and ease of experience (both yours and your audience members').
That means your to-do list gets shorter, your reporting gets more accurate, and you can reallocate your attention to what really matters: your kids and their show.
Making the Switch to Digital
One of the hard truths of education is that, when change is involved—even truly positive change—there will be naysayers. And they're likely to be vocal. We've heard it all:
"The parent volunteers love their poster-board seating chart system (which conveniently ensures them front-row tickets)."

"But, those printed tickets are meaningful keepsakes...."

"The school receptionist loves taking calls about the school play."

"Cash-box-and-checklist is how it's always been done!"
But time and again, once a new system is in place that makes things easier and more engaging, the community gets on board. So take a risk! It's what you teach your students to do, after all.
Here's how to do it in 5 easy steps:


1. Find the right online ticketing software for your educational theatre needs.
Sure, there are tools out there that require fancy equipment (think card readers and ticket scanners), but those things are unwieldy and difficult to keep track of when you're working with a team of volunteers. They also happen to be unnecessary. On The Stage gives you all the functionality you need and works on any handheld device. Plus, the complete promotion, ticketing, and audience engagement platform is available at no cost to your organization!

2. Prepare your community.
Make sure this year's attendees know that something different and exciting is happening—no pre-show visit to the ATM required. Send out an email, make an announcement in your school's newsletter or website, or consider sending home a printed flyer. You'll want to give people a chance to ask questions before opening night.
3. Promote it.
Get your community excited to purchase online by setting a date and time for tickets to go on sale. With On The Stage, you can even send designed email announcements featuring your show's artwork.


4. Prep for opening night.
With a digital system, you'll know in advance what to expect on the day of show. Need to add seats? Have a group coming that all needs to sit together? No problem. And for patrons who still prefer an in-person transaction, just use On The Stage's Walk Up App at the box office. You'll already be using the system to check patrons in at the door, so all processes are managed with just one set of tools. Bye bye, bottleneck!


5. Sit back and relax.
Ok, maybe not. But you can certainly turn your attention to what's happening onstage now that all your front-of-house business is running smoothly and efficiently. And wasn't that the goal all along??
Ready to learn more? Check out

OnTheStage.com

or talk to an expert today.