Like dedicated theatre makers do, the staff at New Surry Theatre in Blue Hill, Maine, made the best of pandemic protocols to create a work that leaves a lasting impression. Take that, creative crisis!

Founded in 1972 as a theatre school, New Surry Theatre has evolved to foster year-round acting classes, summer intensives, camps, and repertory seasons across the state.
Since the pandemic began, artistic director Lori Sitzabee has been hard at work, planning and producing virtual performances to maintain her theatre's artistic reach even at a distance. That, she says, is her duty to those who support the organization.
Virtual or not, Sitzabee and her team believe that along with generating quality entertainment, the art they present has a deeper meaning and purpose.
"Our goal with virtual performances is to continue to provide our patrons, actors, crew members, and all those who follow us with quality theater experiences while staying safe and healthy," she says.
To do that, New Surry Theatre chose On the Stage's all-inclusive production platform to present a show that offers weighted parallels to today's social landscape.
"New Surry Theatre's mission is to inspire, entertain, and engage the community through live theatrical productions and theater arts education," she says. "We also look to engage the community through truthful performances that challenge our way of thinking and promote a deeper understanding of the human condition."
a New Challenge
Prior to COVID-19, the company presented year-round plays, musicals, and readings, in addition to operating a performing arts school.
Now, says Sitzabee, "with social distancing and the inability to present in our theater of about 100 seats, we have moved our school and productions online for the foreseeable future."
Due to this restructuring, challenges and limitations have naturally arisen.
"We have had to rework our show selection and look at plays that would work in an online format, where actors could be in their homes using Zoom as our performance space."
But the team welcomes the opportunity to explore new methods of producing and new concepts for what makes an excellent show.
"It has been difficult securing performance rights for the plays we would like to do," she says. "The rehearsal process is streamlined and a bit shorter. However, we find we can really focus on the actors, and explore the truthfulness of each character they develop. We are finding new and challenging ways to be innovative."
For their first online production, New Surry presented The Laramie Project, which follows the events surrounding the 1998 murder of Matthew Shepard, a gay University of Wyoming student. Set in Laramie, Wyoming, the piece was created using dozens of actual interviews with people in the town involved in the tragedy and explores the lasting effects of hate crimes and homophobia. Sitzabee found the content of this work unnervingly similar to today's social landscape.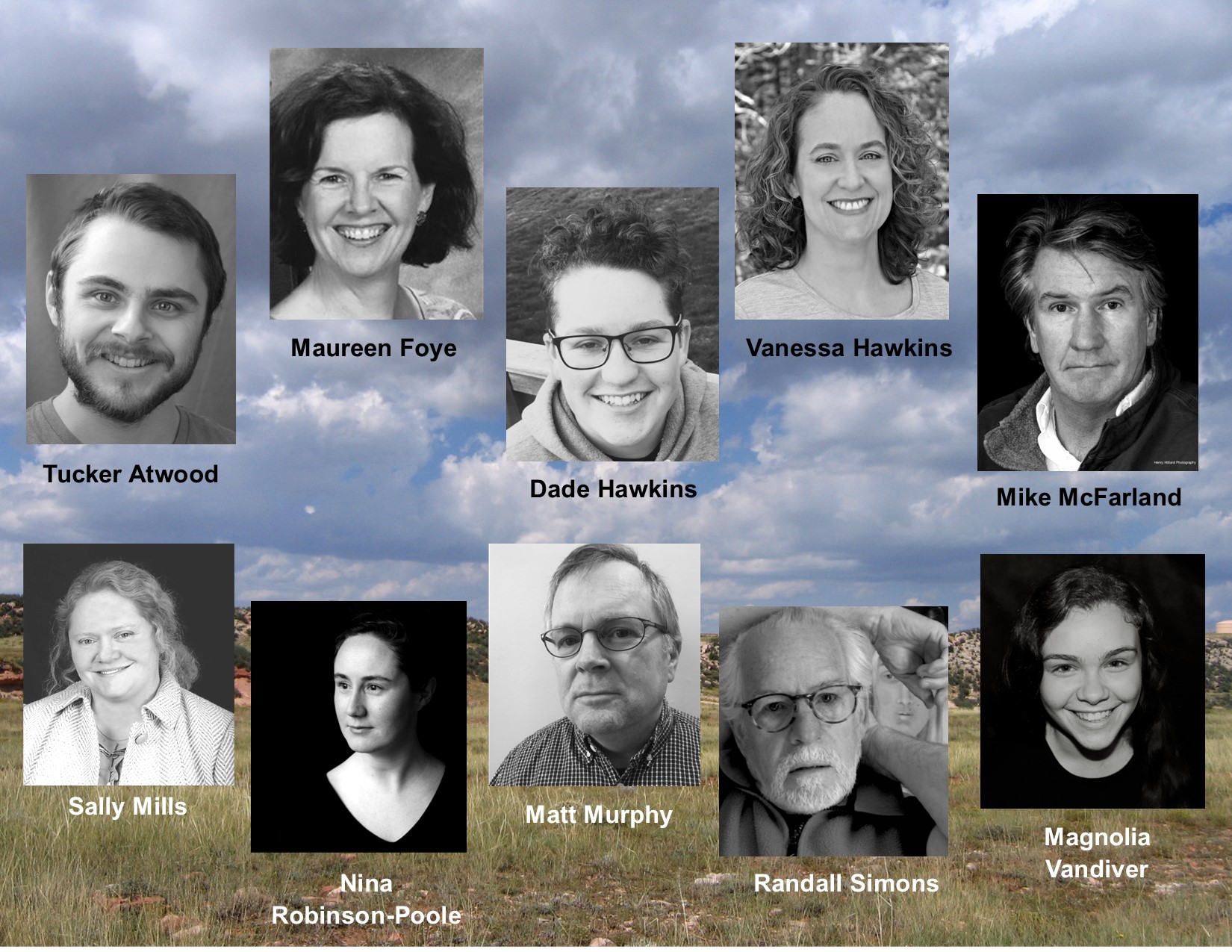 The cast of New Surry Theatre's The Laramie Project (2020)
"The current events of late May and early June–including the death of George Floyd–hit us all. That we were hearing the same messages of hate and bigotry was horrible for us," she says. "I let our cast and crew know that we had an opportunity to share with our audiences a very real message and a chance to change hearts and minds."
Like many theatre companies working on their spring productions, a large hurdle with this piece was transitioning the performance model from in-person to virtual.
A creative solution
"Most of the original cast members who had auditioned were not able to perform with us online," says Sitzabee. "We had a quick turnaround time of five weeks to put up a performance. So, I reached out to folks who had worked with us before and asked them to read for me. Ultimately, I cast ten actors. We rehearsed two evenings a week for five weeks."
Along with a tight dispatch and the pressures of the re-casting process, "many of us were more nervous going up online from the comfort of our own homes than we would be in the theater," Sitzabee says with a laugh. "Some of the challenges were technical – knowing when to turn on and off the camera and microphone, and worrying about connectivity, as we're in rural Maine. Costuming and character changes were the same. Rehearsals ran on time and were quiet; being online, there were no side conversations."
Acting in front of a screen and on a stage are incredibly different skill sets, as well. Sitzabee trained her actors to ensure that the performance wouldn't lose any of its integrity in that regard.
"We worked through things like looking at the camera on the computer rather than looking at the other people on the screen," she says. "Exploring backgrounds and colors, the use of the camera itself and how actors fit in the screen, getting up and moving in a small space without losing the integrity of the sound or the view, making costume changes fast and quietly without disturbing the microphone…so many things that we don't have to worry about on stage! But, we didn't have to worry about blocking or staging. Also, the actors could have their scripts right in front of them if needed and not be seen."
Another camera-centric challenge was keeping up the dynamic of a live show without audible reactions.
"The energy was different because we weren't physically all in the same space and, during performances, you can't feel the audience there," Sitzabee says. "Our cast was awesome–that really helps. I think that we were all very excited about how a virtual performance would be received."
She continues: "For me, as the director, I maintain a positive attitude with cast and crew. Most of the time I keep my reservations to myself, if I have any. In this case, I was certain that we had the right show and the right cast, and I let them know that."
Unexpected support
Much to their surprise, New Surrey received a high volume of donations at the virtual box office. This helped to keep the staff and actors riding a high.
"We offered Laramie as 'pay what you can' and suggested a $20 donation," says Sitzabee. "Our ticket prices are typically $18 for seniors and students, and $22 for general admission. We made what we would typically make on a production in the theater!"
Another bonus of streaming the performance? The show wasn't limited to the confines of four walls and to those who could fit within them.
"We had increased audiences; our theater holds about 100 people, if we pack them in closely. Comfortably, we seat 80," says Sitzabee. "What was great was that we reached folks across the country and internationally in Greece, London, and Germany."
With On the Stage's streamlined tools and fully supported platform, which was built to enable theatre companies in their virtual performance endeavors, the team at New Surry presented Laramie without a hitch.
Looking to the Future
The entire experience with On the Stage's steaming has Sitzabee thinking about virtual performance in a whole new light.
"We are exploring the possibility of livestreaming even when we're back in the theater," she says. "We increased our audience attendance, we had great feedback from many, many people, the actors were happy with performances and that they could share with friends and family who are often too far away to see a production."
Sitzabee's overall takeaways with virtual performances is highly positive, citing that they push actors to go further into their characters, and, at the same time, offer further inclusivity in the already inclusive world of theater.
"Live-streaming gives you the chance to broaden your patrons. We can include cast and crew members that may not live close by," she says. "Actors really have to dive deep into their characters; while the audience isn't close in person, they are seeing things very up close and personal. Every little detail in facial expression is seen. Truthfulness is extremely important."
For those with trepidations about utilizing On the Stage's virtual tools to produce an online show, Sitzabee says that apprehension isn't really necessary.
"Do it! You will be so glad that you did," she says. "It's not nearly as scary as you think it might be. You don't need to be too tech savvy to navigate this platform. We will be using On The Stage for at least the rest of the year, and we are looking into continued use once back in the theater. The best feature is that those that might not be able to make it, or those who live far away, are able to see NST on the virtual stage."
New Surry is currently working on another virtual production, this time a live reading of original works with the end goal of highlighting local playwrights and their many talents.
"On the Stage makes everything very easy for us," says Sitzabee. "The entire layout of the platform made streaming very easy for us to do. Having everything right there in one place took most of the fear away. From rehearsal schedules though to the actual performances, they were there at the push of a button."
For information about New Surry Theatre's current season, visit newsurrytheatre.org.
To learn more about On The Stage, visit onthestage.com.